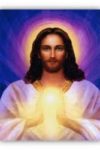 Greetings Beloveds, it is I Jeshua,
I am with you at this significant time of year to remind you that you are of great value to Earth. You have always been a key player in Earth's history. Recognize this dear one, as it is each of you who bring the change and ascension of a Christed planet. When you recognize your value and know that you are a Christed Being of Light, you create the changes needed in each moment as you walk the Earth.
Use the love that is within your Sacred Heart to see your magnificent light and transmit that light to the world. When you use the eyes and consciousness that is within you, you are a powerful creator. Yes, you create the change that is so needed at this time, but you also remember who you are and have always been when you look into that beautiful heart of yours. As you remember, you become the instrument for others to use to remember the beauty of themselves because you model that energy to the world without saying a word. The element of love and unity is always expressed in a coherent field of energy. This immense field is within you as well as around you. All that is needed for this infinite expression of you to activate is your conscious awareness of yourself as divine.
You are the ones that follow in my footsteps. I left the beginning of the way to reclaim yourself as the Christed image so Earth would once again be the environment that reflects that image. I often felt the weight of the responsibility I carried to awaken the love within humanity. When I would withdraw to the silence of the beautiful desert, I remembered the unlimited love that I was, and the weight would disappear. I ask you now dear ones, not to burden yourself with any perceived task that is at hand but retire into the silence of your Sacred Heart to remember the immense love that you are. You were created in immense love and are never separate from it. This recognition alone creates unity consciousness. This is the piece that you have come into this life to implement into the consciousness of humanity. 
Humanity has created separation and polarity long enough. You have experienced the pain and misery of separation in every conceivable way. Now you are ready to come into the wholeness of yourself. You are ready to create what you always were by exemplifying love and unity as you create. In the beauty of such a light template, you recover the joy of creating in harmonious resonance with the Source of your being. In such resonant harmony, you recognize unity and no longer suffer. You are filled with the joy of life.
My duty to humanity was to be love. I had to awaken that within all those who followed my lead even though they did not have the consciousness to understand what I was exemplifying. I did not expect immediate results, but I knew I was planting seeds that would find fertile ground to manifest in future generations. I am so filled with joy as I see the time is now and my seeds are sprouting. You are those sprouts that manifest from my seeds of love but are capable of adding the complete energetic composition of love and unity. Now is your time to plant the complete hybrid seed of unity which is never separate from love. When you create in the totality of love and unity, you create from an unlimited perspective. There is no limit to what humans can create and experience. Together in a collective consciousness, you express unity. You manifest what is needed in the moment.
In this very moment dear one, it is so necessary that you remember this. There has been such division in the world. Everyone is expressing a different opinion. This is an appropriate beginning in co-creating. But this stage often goes off-center and diverts your attention from the importance of opinion to standing rigidly in the right or wrong opinion. It is only through keeping an open mind that multiple solutions and possibilities that a creative path can be seen. Sometimes more than one possibility has to be tried before a solution to any problem area can be found. This is a perfect example of unity working together as a unit to accomplish a common goal.  
It matters not whether the goal is perceived of as large or small. Creating a solution together in unity and manifesting the perfect result gives you the confidence to use this perfect template again and again. This is how love and unity is seated firmly into a living light template for all humanity to use.
Be the piece of consciousness that you came into this life to be. Allow me to lead you by the example that I set. Even when many were not capable of totally understanding love I was love. The total love that I am lived on through the ages and is still present in the energetic environment today. Will you be the unity even when you are misunderstood? You can be the living template of unity because you have it within you as well as the love that is never separate. You are the living template of love and unity and have that imprint in every cell of your being. Share it without limit.
We are one in the unified expression of love,
Jeshua