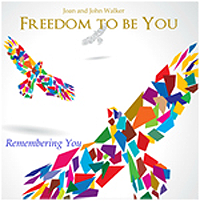 The Freedom To Be You series of informational audio pods contain simple yet valuable information to help you make conscious choices that enhance your life experience. The lessons are short and designed for those who have busy lives and limited time, but still desire guidance and information that will help them create their daily life so it reflects more peace and harmony. Each pod contains 4 Lessons, each of which comprises a teaching with a practical application example, a guided meditation and a channeled message from an Ascended Master or Archangel. They are easily downloaded to your computer, iPod, or any such device where you can listen to them at your convenience.
Pod 1
Lesson 1: Remembering You
This lesson helps you consciously to explore who you are beyond the labels and definitions that you or others have used to describe you. It shows you that you are a soul/spirit and an individualized expression of your Creator, and thus are not unworthy or less than.  You are not alone in your journey. You are always supported and loved. Most importantly, this teaching helps you to uncover the many qualities and talents that you posses but have not been conscious of. It shows you that you have value.
Lesson 2: Your Sacred Heart
What a valuable and beneficial center your Sacred Heart is! This center is where you connect with "The All That Is" and receive the Love and Light of Source that is always generously given. This lesson shows you how you can draw from the vast resources that are available to you in your Sacred Heart. It is designed to help you feel more competent in your ability to create and manage your life experience, and to become aware of the love that is always inside of you.
Lesson 3: Your Center of Peace
This lesson introduces a valuable tool that you can use in all aspects of your life. It is called, Your Center of Peace. This lesson teaches that through your intention and attention, and using your breath, you can very easily create this space within you at any time and under any circumstances. This helps you to diminish the stress that you often feel when life is hectic and seems out of control. The busyness of the day can be directed to your benefit rather than being chaotic. Lesson 3 enables you to change the energy in a room.
Lesson 4:  Your Inner Observer
This lesson teaches you how to cultivate another valuable center called Your Inner Observer.  It shows you how to observe your thoughts and feelings so that you become more aware of yourself as you operate in your daily life. You learn to make these observations from a state of neutrality. Through observation, you gain the power to change negative patterns and create new more positive patterns that better serve and support you. Lesson 4 teaches you to be aware of your inner dialog.
Each lesson also contains a Points To Ponder sheet and an affirmation or prayer sheet that can be downloaded and printed to help you move further in your exploration of self.