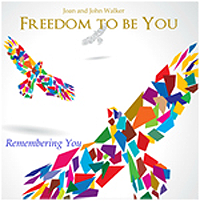 Pod 2 in The Freedom To Be You series follows the same format as Pod 1 and begins to teach you to "Take Charge" of what you are creating in your life. Each lesson gives you easy to follow instructions as well as practical applications you can use in your everyday life. These four lessons also contain a guided meditation by Archangel Gabriel, as well as a channelled message from one of the Ascended Masters or Archangels.  They are easily downloaded to your computer, iPod, or any such device where you can listen to them at your convenience.
Pod 2 Consists of Four Lessons
Lesson 1: Creating Your Life Experience
This lesson teaches you that you are a creator that uses a physical body to navigate and create in a form upon Earth. It shows you specifically how you create through using your thoughts and emotions, and how important it is to be conscious of what you are thinking and feeling. There is great power in your thoughts and emotions so when you use your Inner Observer you can know exactly what you are thinking at any given time. When you create unconsciously you don't always get what is desired. In this lesson we show you how to change your creations and empower yourself to create more precisely. You are able to react less, as well as choose exactly what is needed in the moment.
Lesson 2: Genetic Lineage and Family Patterns
What a valuable and beneficial center your Sacred Heart is! This center is where you connect with "The All That Is" and receive the Love and Light of Source that is always generously given. This lesson shows you how you can draw from the vast resources that are available to you in your Sacred Heart. It is designed to help you feel more competent in your ability to create and manage your life experience, and to become aware of the love that is always inside of you.
Lesson 3: Shifting Your Patterns
This lesson, shows you how to discover your emotional patterns and preferences and how to get in touch with the emotions and thoughts that create your patterns. We teach you how to use a simple diagram that will assist you in changing unwanted patterns by creating a replacement pattern. This process empowers you to create in your life with confidence and certainty. You are able to realize that you are not a victim of circumstances.
Lesson 4:  Creating a Crucible for Self Love
 This lesson takes you right into your heart and shows you how to appreciate and love yourself by creating a container to nourish yourself. We teach you how to take care of you on a physical, mental, emotional, and spiritual level. You are given specific examples of how to do this.
Each lesson also contains a Points To Ponder sheet and an affirmation or prayer sheet that can be downloaded and printed to help you move further in your exploration of self.
This series is available in downloadable MP3 format only.